EL PEQUEÑO PARAISO
Javea, España
Costa Blanca, Spain
Bed & Breakfast
Do you want to enjoy a sunny and peaceful summery vacation in a beautiful villa
with a grandious, enclosed garden and a large, phantastic swimming pool.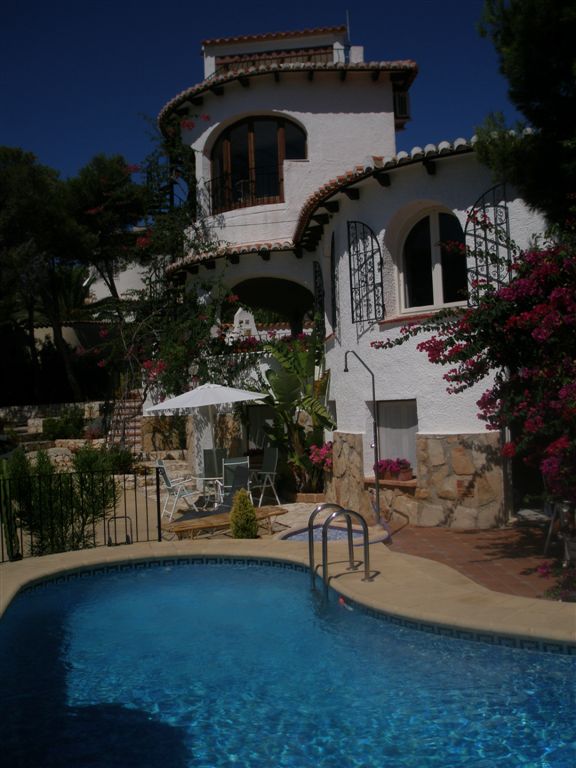 Javea is one of the most beautiful spots on the Costa Blanca! It lies in the middle of nature, surrounded by mountains and a magnificent turquoise blue sea, and the beaches are always near by. It is situated 30 km from Benidorm, a city which never sleeps, and the new and greatest family theme park, Terra Mitica, close by. There are also water theme parks nearby as well crystal-clear water falls which offer magnificent swimming. If you enjoy nature, there is the possiblity for nice hikes in the mountains. Other excursions are possible, e.g. to flee markets or visiting typical Spanish villages where every year a lot of fiestas are held. Naturally, you can also choose for a relaxing beach holiday.
Pets are welcome.
In our neighbourhood there are as well sandy beaches as there are rocky beaches. The rocky coast is very well suited for the diving ethousiasts. For this purpose we work together wih 2 diving centers.
Reviewed in Eyewitness Top 10 Travel Guides : Costa Blanca
acrobat reader format : brochure